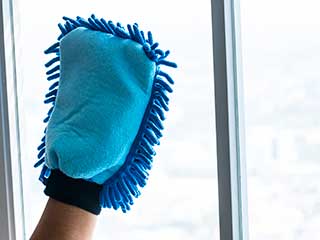 Keeping your home clean and sanitary is very important in general. These days, sanitizing surfaces, cleaning carpets and furniture, and getting rid of stains have become even more meaningful. To get these tasks done thoroughly, we offer customers from all areas nearby Beverly Hills house cleaning services that are quick and affordable. We can help you get rid of mold and mildew, clean tiles and grouts, wash floors, and steam clean sofas. Whatever you need to get your residence cleaned and looking and smelling great once again.
Scrubbing and Washing Tiles & Grouts
Bathrooms, kitchens, and all other parts of your Beverly Hills house where dirty tiles become an issue are covered in our service. We scrub out any stains and get rid of the dirt that accumulates inside the grouts and can turn them black from grime. Cleaning tiles helps prevent the onset of mold, ensuring you maintain a healthier home environment as a result.
Couch & Sofa Steam Cleaning For Beverly Hills Houses
Whether in your living room, den, or other places, dirty furniture become unsightly very fast. Stains on couches and sofas or other pieces of furniture can quickly ruin any aesthetic or interior décor. When dirty sofas with stains look neglected they also have a subconsciously dismaying psychological effect on you. Plus, stains on furniture are a source for bacteria to grow. Point being – we can help you get rid of dirt on couches and alike with our expert furniture steam cleaning services that remain non-harmful to the furniture itself. The steam doesn't damage the sofa but helps dissolve the stains to allow us to get them out.
Carpet Stain Removal
We offer the same stain exorcising efforts to more than just furniture. With the help of the professional carpet stain removal services we provide to Beverly Hills area residences, you can save any floor covering items in your possession. Our pros know how to treat carpet stains without damaging the material even a little. We use eco-friendly carpet cleaning products to dissolve and soak out or wash the stain off, leaving the floor covering unharmed in the process. Whether you've got a dirty rug or stains on some wall-to-wall carpeting, our experts can handle the problem in a safe and fast way.
Cleaning Curtains & Upholstery
Even thinner and smaller covers need cleaning from time to time, especially if they collect dust or start to show stains of various sorts. We dust and clean blinds and window shades, as well as all sorts of draperies, thus ensuring the indoor air quality in your Beverly Hills residence stays optimal. The same goes for bed coverings and other types of upholstery. Cleaning them with our special, non-harmful products ensures their fresh and sanitary status and helps you maintain the good health of your family.
Thorough Room Cleaning Services
Our efforts encapsulate every sort of cleaning and sanitizing services Beverly Hills houses can require. From sofa stain removal to upholstery cleaning to washing tiles and scrubbing out carpet dirt. We maintain complete protection while working. Our team only uses non-harmful solutions to get rid of stains. That way we ensure no carpet, furniture, or upholstery gets damaged. With our over a decade's worth of experience, we've developed surefire ways to get things right. We clean sofas, remove stains on carpets, sanitize floors and counters, and make sure every corner of your house is completely cleaned. Need to sanitize an apartment, house, or another type of residence? Call us for the fastest house cleaning services near Beverly Hills 7-days a week.