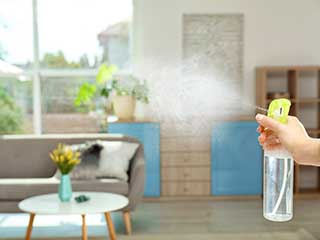 Whether you need a professional to install a new air purification or dehumidification system, or if you need your carpets and upholstery steamed or dry cleaned, we've got it covered. We have experts ready to help you with whatever odor removal service you need.
We Treat the Odor at Its Source
From carpet, upholstery, and tile floor cleaning to dehumidifying flooded areas, our company offers you top-quality services to combat irritating smells. When it comes to efficient odor removal, our technicians have the proper expertise to deal with odors at their source. We have the right equipment that can effectively rid your surfaces of accumulated dirt and grime that vinegar, baking soda, and other DIY upholstery and carpet cleaning applications often cannot remove—especially mold residue and animal urine.
Getting Your House to Smell Fresh Again
When it comes to lingering allergens such as pollen, dander, dust, smoke, as well as harmful pathogens caused by mold or chemical residue, we understand that it's hard to live in a space where you can't breathe in properly. Air quality is an important factor for good health. Not only is your safety important, but so are your employees or family members. Our cleaning services combat the source of your commercial or residential smells – be it cigarettes, pets or a wild party night gone wrong – we will make sure every surface will smell just the way it did when it was new! Yes, even that old upholstered sofa and 20 year old carpet.
Dry & Steam Cleaning Services Depending On Your Needs
Our company provides you a choice of cleaning your home with either our dry or steam cleaning system. Depending on what you may need, especially when it comes to cleaning your upholstery our knowledgeable technicians can efficiently operate the equipment to clean your fabric surface using eco-friendly materials. Regardless of whether you keep your fabric surfaces well-maintained, it's important to hire a professional to deal with the tough to remove sources that DIY carpet cleaning methods cannot handle effectively. Not only do we make your carpets spotless and clean, but we also increase your carpet's longevity.
Call Us Now For Effective Odor Removal
It is important for your home or office environment to be a breathable one.
With Carpet Cleaning Beverly Hills, we offer professional-level odor removal, as well as other cleaning services that you may need. Call us now.
Here are a few of the other services we offer:

Tile Floor Cleaning

Natural Stone Cleaning & Repair

Office Carpet Cleaning

Natural Stone Cleaning & Repair